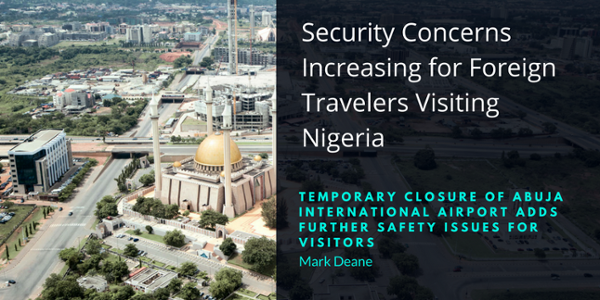 Temporary closure of Abuja International Airport adds further security issues for visitors
The international community looked on with increasing concern and interest this week as the security situation in parts of Nigeria looks increasingly volatile. The recent kidnapping of two German Archeologists in central Nigeria further heightened worries regarding the safety and security of foreign visitors to the country.
The German nationals were kidnapped in the Kaduna region soon to be the alternate main airport when Abuja's airport closes for temporary repairs on March 8. The impending closure has already caused the U.S. State department's OSAC office to issue warnings to U.S. nationals to exercise caution if traveling to Nigeria during the routing of flights to Kaduna. In particular, they urged travelers to put deliberate security plans in place with recognized providers for any onward secure ground transportation. The roads in the region already are considered high risk – with this being compounded now by opportunity criminals targeting an influx of transiting visitors to the capital once the airport in Abuja closes.
Click Here To Book Secure Ground Transportation in Nigeria with ExecSecure™
Kaduna sits some 160km (100 miles) from Abuja and current plans would have travelers transferred by buses to the capital during the 6-week airport closure. The German Archeologists were kidnapped from a site approximately 30 km from the Abuja road. A $200,000 ransom has been demanded and 2 local nationals accompanying the Germans were killed by the kidnappers during the abduction.
Kidnap for ransom is common place in Nigeria and the growing concerns over the safety and security situation in Kaduna, not to mention the ability of the small airport to deal with the influx of international arrivals is causing many organizations to review their travel plans during the Abuja closure. At the very least if travel is required to go ahead, then the assistance of recognized security providers like ExecSecure Abuja to deliver secure transportation services and Executive Protection is strongly advised.
ExecSecure Inc is a subsidiary of ETS Risk Management and has comprehensive capability within Nigeria, overseen by an in-country manager (EX UK Special Forces) and supported by a small, close-knit local team. Armored Vehicles and Police (MOPOL) support can be provided.